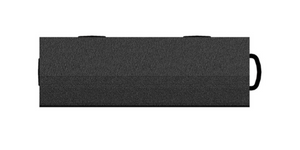 WeatherTech® 51B26 BK - TechFloor™ 2" x 6" Black Border Floor Tile Set-4 pc
TechFloor™ 2" x 6" Black Border Floor Tile Set (51B26 BK) by Weathertech®. This is the first modular floor system to have 2 distinctly different materials molded into one tile. The top surface features soft-touch squares for wet or dry traction, while the soft-touch underside tightly grips any surface. The tiles just snap together; no need for special tools or professional installation.
Patent pending TwoShot™ process produces a rugged and low profile polypropylene tile
Top surface features TractionSquares™ to prevent slippage, wet or dry
Soft-touch underside offers incredible grip, yet gentle to surface
Tiles snap together for easy assembly and disassembly, so floors can be put down and taken up in minutes
Ideal for the garage, basement, shop, laundry room, deck/patio, porch, pool area, kids' play area, workout room, mud room
Floor can be installed with a minimum of cutting
Durable and easy to clean
Proudly made in the USA

Color: Black
Quantity: 4 Pieces
Size: 2" x 6"