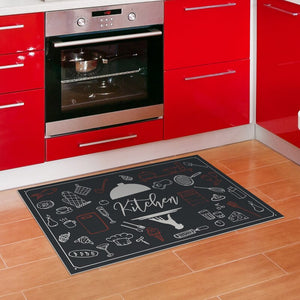 Mousoupetros Decorative Indoor Kitchen Mat
Every home or space needs ornate yet pragmatic pieces to add a sense of creature comforts and livability. Lively and in Vogue, this 100% vinyl mat with levitating delectables and utensils come in a simple display of red, white, and charcoal. This pleasing piece of home decor is adaptable to any conventional or contemporary space. This well-made floor mat offers trouble-free cleaning. Attractive, stain, and fade-resistant this mat can be placed under pet bowls, dinner plates, and by a door to greet a muddy dog or child. Protect your floors or other areas of high-frequency eating or foot/paw traffic in your home or place of business. Vinyl can be a bit slippery if wet, so be sure to wipe up any liquids to avoid falls.
Features
Do you have tiny humans or little furry ones stomping all over the house? No worries! Your newly purchased decorative mat is made from 100% tough PVC vinyl and is just as visually stimulating as it is useful and resistant.
Easy to clean - Even the gnarliest of spills and messes will not compromise this catch-all. Pasta sauce, fruit juice, and dog food gravy are easily handled by this mat.
Environmentally sound - This mat was designed with environmental awareness. It is 100% recyclable and durable. Your planet is filled with discarded items that negatively impact the earth. They are trying to make a difference by reducing your footprint.
This mat is made with care and excellent craftsmanship in Atlanta, Georgia. You don't have to go far to add a bit of spark and guaranteed quality to your home or place of business.
Product Details
Material: Plastic
Water Resistant: Yes
Stain Resistant: Yes
Rectangle 2' x 3' Mat Size
Overall Height

0.08''

Overall Product Weight

Overall Length

36''

Overall Width

24''