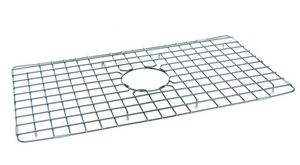 Franke MANORHOUSE UNCOATED STAINLESS STEEL BOTTOM GRID FOR MHX710-33
$10799

$107.99

Save $57.76
---
---
With the use of Franke's integral shelf, you can accessorize your sink with a Franke shelf grid. This grid not only adds to the ease of food preparation and cleaning dishes, it serves an ergonomic function as well. It ergonomically raises your working area up to take the strain off of your lower back when lifting heavy items.
Custom shaped and tooled to specifically fit the Franke sink of your choice
Each wire is electro-polished stainless steel, NOT chrome plated
Heavy duty 4.99mm gauge stainless steel wire
Specifically engineered grid pattern to withstand 40lb weight tolerance without buckling
Franke is focused on the function and performance and not a gimmicky design that won't hold up to the task
100% stainless steel
Clear bumpers and feet secretly protect your sink (FDA approved)
Prevent scratching of the sink
29 1/8" x 15 13/16"

Franke MH33-36S Manor House Sink Bottom Grid, Stainless Steel:
For use with Franke MHX710-33
18 gauge stainless steel with the industry's highest percentages chromium (18 percent) and nickel (10 percent) for a deep rich glow and corrosion resistance
Franke grids set your dishes up off of the bottom of the sink, allowing them to dry more quickly
Franke respects all legal policies and requirements concerning the environment and strives to achieve even higher levels of environmental protection
Uncoated