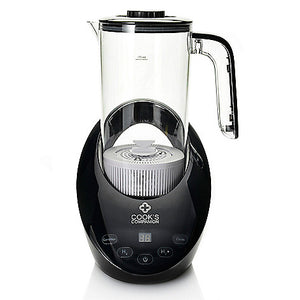 Cook's Companion H2 50oz Water Generator- Black
High-tech and ready for the future, you're looking for the next gadget to add to your kitchen collection. Look no further! With its transparent design, this 50 oz pitcher features two hydrogen functions that provide you with hydrogen-enriched water – choose from hydrogen levels of approximately 600ppb or 700ppb (parts per billion).
What's so great about that? We're so glad you asked. Hydrogen-enriched water has been fortified with antioxidants. They help support cellular health by helping fight free radicals that cause cellular stress and oxidation. LED lights change in color while the pitcher goes through each cycle, so you'll know when whichever function you've set it on is finished. And it turns right off when it's done – so there's no need to worry about manually shutting it off yourself. 
An easy-to-read digital display adds anticipation with a countdown that tells you once everything is complete. You have two functions and a cleaning cycle that you'll want to run after 10 uses to help keep your filter in working order. It's also equipped with a cartridge to help rid your water of residual chlorine - just add water and watch the cycle spin through!
Water System Includes
Base
Pitcher
Pitcher lid
AC adapter
Pitcher cartridge
Water System Features
Large 50 oz (1.5 L) capacity pitcher
Two functions - can choose between approximately 600ppb and 700ppb hydrogen-enriched water
Easy-to-read digital display with countdown tells you when a function has been completed
LED lights change color in the pitcher while going through each cycle, letting you know the function is working and will turn off when the function has been completed
Transparent pitcher allows you to see the electrolysis process in action
Cartridge helps rid water of residual chlorine
Touch button control panel - sleek, easy-to-use design