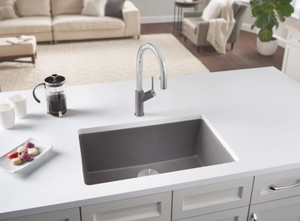 Blanco 522427 - Kitchen Sink Fixture
$25999

$259.99

Save $137.21
---
---
The BLANCO PRECIS 27" SINGLE BOWL is inspired by professional kitchen sinks in both form and functionality. With crisp angular shaping and simple but spacious design, this kitchen sink easily conquers the demands of everyday life. Made from the rock hard, durable SILGRANIT patented surface, it's no wonder this hardworking granite composite sink collection is one of our most popular. Beautiful and highly functional, the PRECIS kitchen sink features a smooth surface that is resistant to chips, scratches and heats up to 536°F. Even a fork or the bottom of a hot pan can't damage BLANCO SILGRANIT sinks. The colorful, non-porous surface also makes the bowl resistant from all stains, household acids and alkali solutions as well as easy-to-clean.  For three generations,  BLANCO has quietly and passionately elevated the standards for luxury sinks, faucets, and decorative accessories. A family-owned company, BLANCO was founded over 85 years ago in Germany, and recently celebrated a milestone of 25 years in the United States where we are recognized as a leader in quality, innovation, and unsurpassed service.
Blanco 522429 Features:
Single basin sink provides increased versatility for any task
Premier finishing process - will resist staining, chipping and scratching through every day use
Blanco sinks feature extremely hygienic, non-porous surfaces
Constructed of Blanco's SILGRANIT material - making it durable and fade resistant
Installs in an undermount configuration - providing a sturdy mount and integrated look
Rear drain location increases workspace area in the sink as well as storage space underneath
All hardware needed for installation included
SILGRANIT FEATURES AND BENEFITS:  Life in the kitchen can get messy.  With Over 30 years of material development, SILGRANIT has been engineered to take on the toughest kitchen tasks.  Our patented sink material is strong and more durable than other sink surfaces.   There is no risk of thermal shock and SILGRANIT will not blister, burn, melt or discolor from heat.  With its non-porous, hygienic surface, it has the ability to push away liquids and residue resulting in low maintenance, long-lasting material that is not only scratch and stain-resistant but easy to clean.  
STAIN RESISTANT: Non-porous surface repels liquids and does not absorb bacteria or odors
SCRATCH RESISTANT:  Simply scrub off marks left behind forks or knives
HEAT RESISTANT: Takes heat up to 536°, exceeding common boiling and baking temperatures
HYGIENIC+PLUS SURFACE TECHNOLOGY: Acts as a shield against dirt and dampness – inhibiting bacteria growth by up to 98%
IMPACT RESISTANT: Will not crack or break if heavy pots or pans are dropped into the sink
EASY-TO-CLEAN:  Baking soda and a sponge are all you need. No harsh chemicals required.